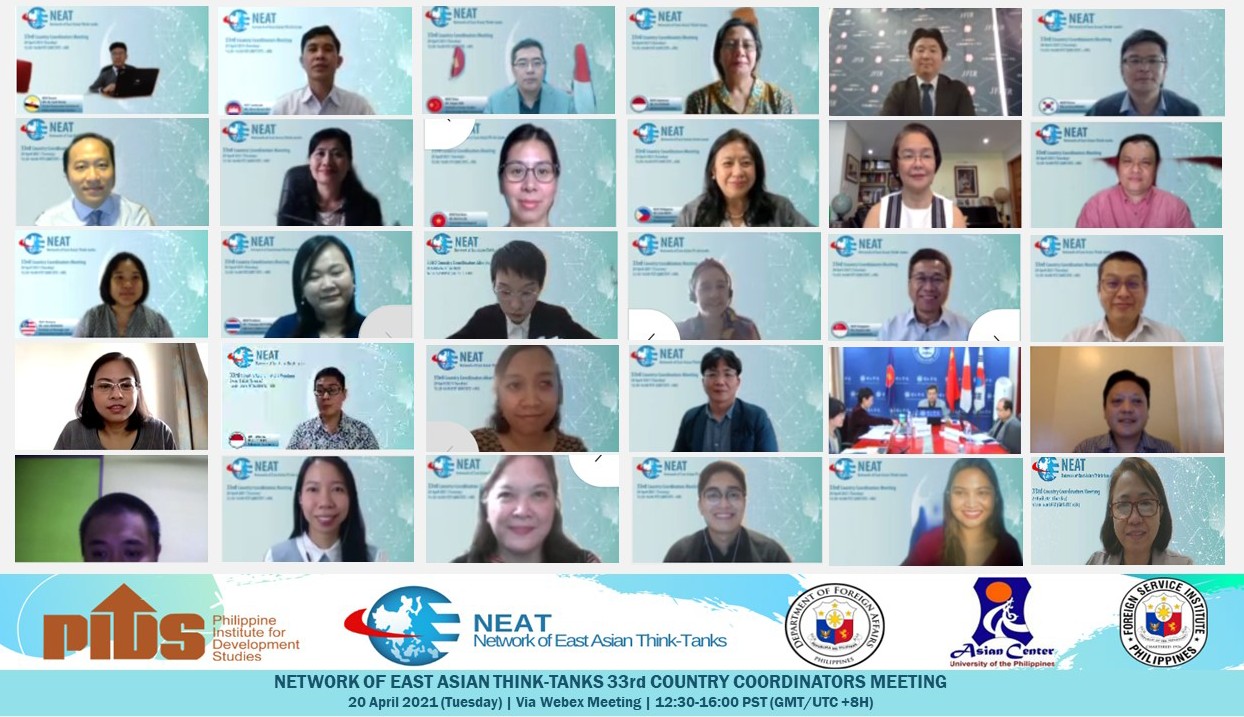 The Philippine Institute for Development Studies (PIDS), in partnership with the Department of Foreign Affairs (DFA)-Office of ASEAN Affairs, University of the Philippines (UP)-Asian Center, Foreign Service Institute, and selected Philippine experts on regional integration, hosted the 33rd Country Coordinators Meeting of the Network of East Asian Think-Tanks (NEAT) on April 20, 2021.

The meeting sought to strengthen the research collaboration among the ASEAN Plus Three (APT) think tanks to produce studies that will help the region recover from the effects of the COVID-19 pandemic. The results of the working group will be presented to the public in September 2021 and will be submitted to the APT track-one mechanism.

In her welcome remarks, PIDS President Celia Reyes expressed her gratitude to the 12 NEAT country coordinators and their respective delegates for joining the virtual event. Among those present were high-ranking representatives from Brunei Darussalam, Cambodia, People's Republic of China, Indonesia, Japan, Korea, Lao PDR, Malaysia, Singapore, Thailand, Viet Nam, and the Philippines.

This was the second time PIDS hosted and chaired the NEAT meeting. The first one was in 2010.

As host, NEAT Philippines issued a Call for Working Group Proposals to tackle pressing issues in the region.

"I am glad to inform you that five countries have responded positively to our call and have expressed interest to spearhead a working group on various topics. They are NEAT China (climate change), NEAT Korea (human security in the post-COVID-19 era), NEAT Indonesia (country responses on the COVID-19 pandemic), NEAT Japan (towards improving supply chain connectivity in East Asia), and NEAT Philippines (accelerating MSMEs' digital adoption to thrive in the new normal)" Reyes said.

Meanwhile, Ambassador Junever Mahilum West of the DFA-Office of ASEAN Affairs highlighted the importance of greater collaboration among member-countries amid the COVID-19 health crisis.

"The COVID-19 pandemic, the response [that] we are making, and the path to recovery that we are charting require that all stakeholders must work together to overcome this challenge. All these underline the need for ASEAN and the APT framework to work closely with partners across tracks, pillars, and sectors to spur economic recovery and ensure our resilience to similar disruptive events in the future," she said.

The DFA official also emphasized that NEAT will play a key role in providing expertise, analysis, and recommendations in resolving major crises such as the pandemic, as well as in harnessing "networks for synergies and complementarities".

"We see an important role for NEAT that could help usher in a strong rebound. What comes to mind is NEAT's grassroots perspective and possible inputs in assessing the impact of the above response and recovery efforts on individual citizens, households, and communities," Mahilum-West noted.

In closing, Dean Joefe Santarita of the UP Asian Center expressed his hope that NEAT projects will produce considerable outputs that will benefit scholars and policymakers at the national and regional levels.

"[I hope] that these researches will be translated into policy actions that will prepare our bureaucrats and officials when another public health crisis comes into the picture. By doing so, think tanks such as NEAT are performing their mandates as information transfer mechanisms and agents of change by aggregating both in the domestic and international policy spheres and creating new knowledge through collaboration with diverse public and private actors," he said.

NEAT is a network of government and research institutions in the 10 ASEAN countries plus Japan, South Korea, and China. It is a Track Two process for East Asian cooperation, the main purpose of which is to support, promote, and develop the ideas of East Asian cooperation and regionalism, and, in particular, to provide intellectual support for East Asian cooperation through studies of key and strategic issues concerning future developments of East Asian cooperation. ###
To see the original post from the PIDS Website, please click HERE.