NEAT Indonesia Working Group Meeting on ASEAN Plus Three and COVID-19 Pandemic: Country Responses and Regional Cooperation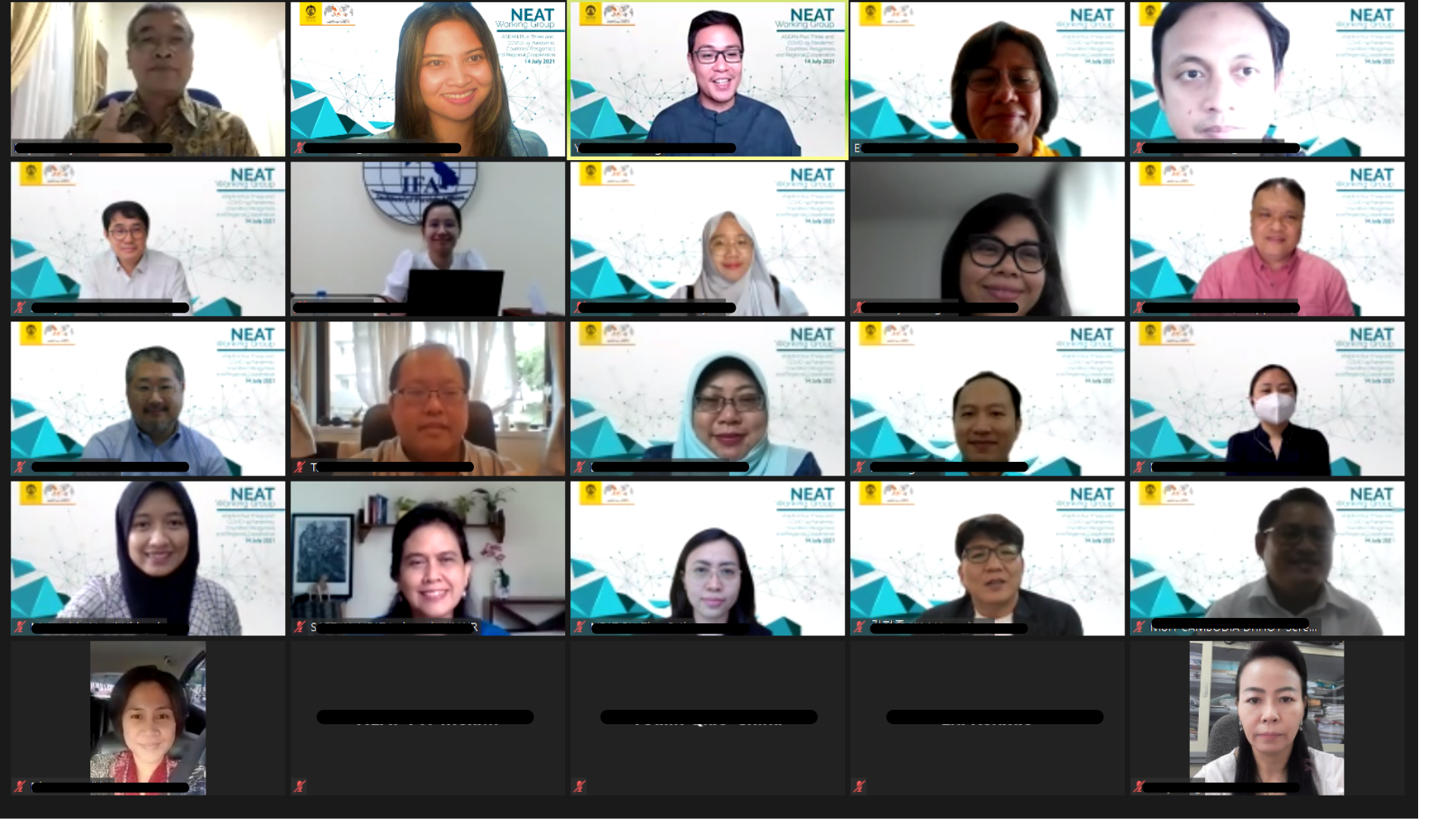 Source: NEAT Philippines Secretariat taken during the NEAT Indonesia WG meeting on ASEAN Plus Three and COVID-19 Pandemic: Country Responses and Regional Cooperation, 14 July 2021
The second working group (WG) of the Network of East Asian Think Tanks (NEAT) this 2021 was hosted by NEAT Indonesia led by the Universitas Indonesia. The WG meeting was held last 15 July 2021, 1100H-1800H (GMT+7) via Zoom with the theme "ASEAN Plus Three and COVID-19 Pandemic: Country Responses and Regional Cooperation".
The objectives of this WG meeting were as follows:
- To exchange knowledge, experiences and views on the issue of COVID-19 responses at national and regional level;

- To create a mutual learning forum which highlight the experiences of each APT country to deal with the pandemic, as well as assessing the existing regional cooperation; and

- To develop and propose a recommendation to establish a better framework for regional cooperation under APT mechanisms for responding COVID-19 and other pandemics.
The meeting was attended by 25 representatives from 11 ASEAN plus three countries. Lead representatives presented their papers on the above mentioned theme. The meeting was divided into four (4) sessions; the first to third sessions were dedicated to the sharing of insights and experiences of the APT countries, and the last one was to the discussion/drafting of the recommendations.
The Executive Director of the ASEAN Study Center and Faculty of Social and Political Sciences in Universitas Indonesia, Dr. Edy Prasetyono, welcomed the participants. The Director for ASEAN External Cooperation, Ms. Carolina Tinangon, from the Ministry of Foreign Affairs Indonesia also gave a short opening remarks.
The first session was chaired by Dr. Shofwan Albanna of Universitas Indonesia. Representatives from Brunei Darussalam, Cambodia, Singapore, and Japan presented their studies.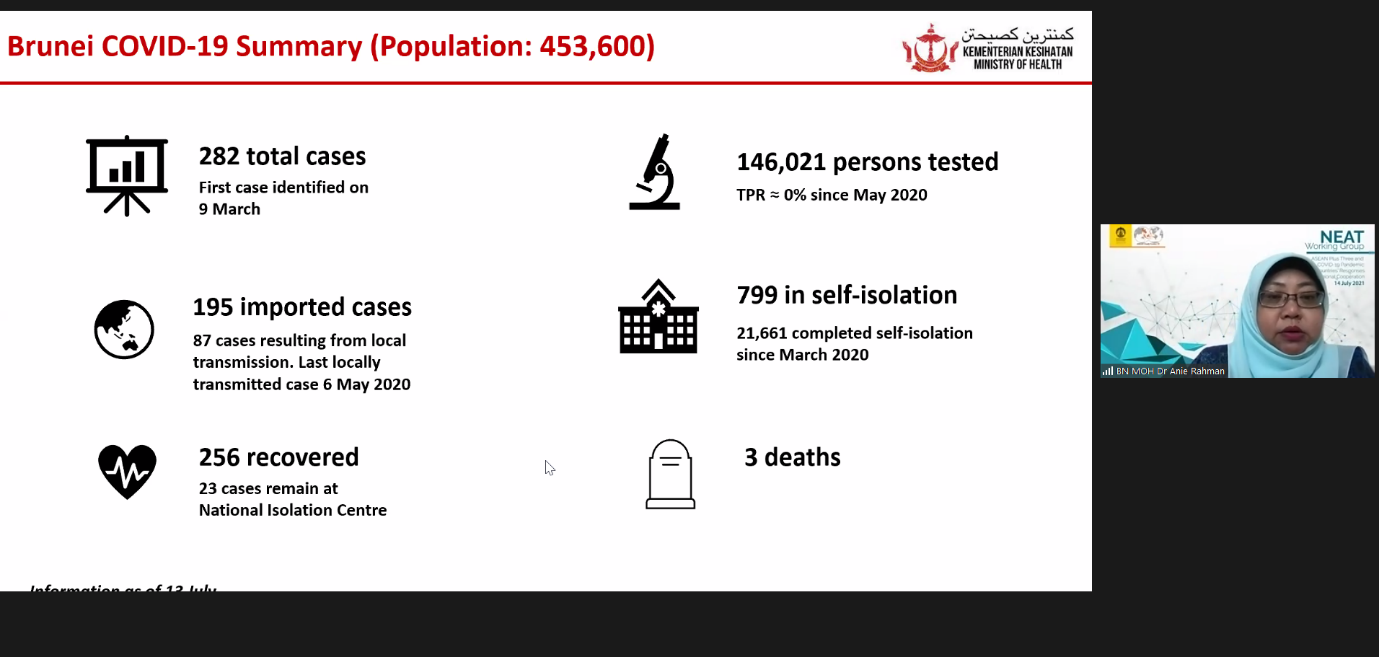 Source: NEAT Philippines Secretariat taken during the presentation of the representative from NEAT Brunei Darussalam, Dr. Anie Haryani binti Abdul-Rahman during the first session of this event
The second session was chaired by Dr. Yeremia Lalisang of Universitas Indonesia. Representatives from the Philippines, China, and Indonesia presented their studies.
The third session was chaired by the NEAT Country Coordinator of Indonesia, Dr. Evi Fitriani of Universitas Indonesia. NEAT colleagues from Lao PDR, Malaysia, Viet Nam, and Korea shared their studies.
The last session was chaired by the lead in this working group, Dr. Shofwan Albanna. He facilitated the drafting of the report based from the presentations of the representatives from APT countries.
NEAT Indonesia will submit the final report of this WG to the NEAT Country Coordinators in late August in time for the 34th NEAT Country Coordinators Meeting scheduled on 01 September 2021. Further, the result of this working group is policy recommendations to the APT leaders who will meet in November 2021. For more information, you may reach NEAT Indonesia through Dr. Yeremia Lalisang, Universitas Indonesia (This email address is being protected from spambots. You need JavaScript enabled to view it.).
You may access the program by clicking HERE.